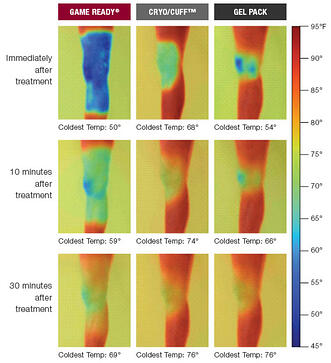 You want the best for your patients following surgery. Evidence continues to suggest that combining cold therapy and intermittent pneumatic compression is an efficacious approach to treating a wide range of musculoskeletal injuries and improving postoperative rehabilitation outcomes. Here's a roundup of the cold compression clinical data from three important new studies that have been published concerning cold compression therapy.
1. Effects of Intermittent Cryo-Compression Therapy in Primary Total Knee Arthroscopy Patients: A Prospective, Single-Blind Randomized Controlled Trial (White Paper)
Edwin P. Su, MD, Hospital for Special Surgery, Weill Cornell College; and Tad L. Gerlinger, MD, Brooke Army Medical Center. March, 2012.
This study compared the effects of standard cryotherapy (ice) with static compression to a new cryotherapy device that offered adjustable intermittent pneumatic compression on the postoperative rehabilitation of total knee arthroscopy patients, via a multi-site, randomized control trial.
The results of the study "indicate a positive correlation between the use of the Game Ready Injury Treatment System and accelerated improvement in patients during rehabilitation from TKA surgery over a six-week period compared to the results in patients using ice and an elastic bandage (static compression)." The cold compression clinical data from this study further points to the fact that using this system helps patients more rapidly return to normal activities of daily living, and lives up to patient expectations as well as payor and employer expectations.
2. Is Continuous Flow Cold Compression Therapy Better Than Ice and/or Compression Alone for the Treatment of Post-Operative Total Knee Replacement?
Shane Rushing, Pacific University, PT Critically Appraised Topics, School of Physical Therapy. 2011.
The author wanted to know what effect continuous flow cold compression therapy had on patients in outpatient physical therapy following a total knee replacement (TKA) surgery. He notes that these patients often struggle with edema, range-of-motion (ROM) deficits, decreased lower extremity (LE) strength and balance, and associated gait abnormalities.
Cold compression clinical data collected suggests that using a system that integrates circulating cold therapy with intermittent pneumatic compression therapy in one wrap that's designed for the knee's anatomy can increase knee PROM and decrease pain in the first week following surgery. Further, 'subjects in the continuous flow group were statistically found to use their cold modality for a significantly higher amount of hours during the (PRN) days 4-6."
3. Effect of Cold Compression Therapy on Postoperative Pain, Swelling, Range of Motion, and Lameness after Tibial Plateau Leveling Osteotomy in Dogs.
KA Drygas, SR, McClure, RL Goring, A Pozzi, SA Robertson, C Wang. Affiliated Veterinary Specialists, Orange Park, FL. J Am Vet Med Assoc, May 15, 2011.
This study collected cold compression clinical data on dogs to evaluate the effect of cold compression therapy (CCT) on postoperative pain, lameness, range of motion of the stifle joint, and swelling following tibial plateau leveling osteotomy (TPLO). One group of dogs received this therapy while the other group received no cold compression therapy.
There were no complications and results show that, "the use of CCT resulted in lower values for the visual analogue scale and Glasgow pain scale." Additionally there were lower pain threshold scores, lower lameness scores, less swelling and increased range of motion 24 hours after surgery.
These studies add to a growing body of evidence that suggest that combining cold compression therapy and intermittent pneumatic compression in an advanced and easy-to-use system gives your patients better outcomes – lower pain, faster recovery and faster return to work. How can we help your patients get back on their feet sooner?