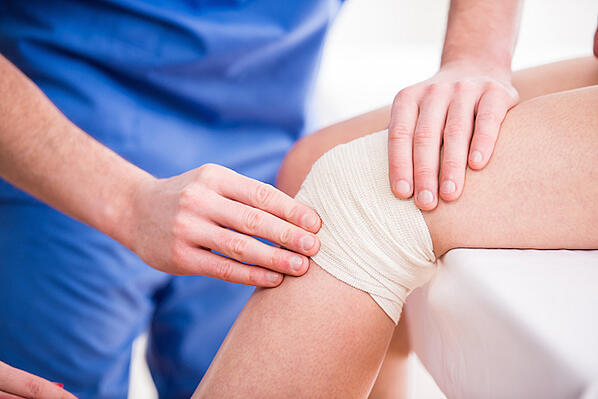 Unfortunately, even the most routine surgeries come with some risks. However, many of these potentially negative events are avoidable if you take the right steps after surgery. One of the most effective ways to prevent some of these complications is with the use of compression therapy.
Being aware of the possible complications is a good first step toward prevention, so ask your doctor about all of the phases you can expect, both good and bad, during your recovery.
Compression Therapy and Post-operative Complications
Some of the most common post-surgery difficulties that may be preventable with compression therapy include:
Edema - The buildup of excess fluid, also known as edema, slows down the healing process after surgery and can also cause discomfort, impact range of motion, and potentially contribute to infection. Applying intermittent compression helps move this excess fluid away from the surgical site and bring fresh, oxygenated blood to the healing tissues.

Swelling - Some swelling is a normal part of the inflammatory response. It's perfectly normal, and in fact, an important part of the healing process. However, excess swelling can have a negative effect on tissue repair after surgery. Applying intermittent compression, ideally with therapeutic cold, helps control swelling so you can recover as quickly as possible.

Wound healing - If not treated properly, surgical incisions can become infected or take a long time to heal. By enhancing blood flow and reducing edema, active compression helps prevent infection and decreases wound healing time.
Of course, always follow your physician's instructions for post-operative recovery, and contact them immediately if you are concerned about your health.
The combination of active compression and cold therapy is one of the best ways to help prevent post-surgical complications and speed up the healing process at the same time. In addition to avoiding the complications listed above, the application of intermittent compression with simultaneous cold helps the therapeutic cold penetrate deeper and enables the benefits to last longer. This means a faster, safer recovery for you.
If you want to learn more about how active compression and cold therapy can help improve the recovery process after surgery, ask your doctor about Game Ready. The combination of cryotherapy and intermittent compression will not only help prevent post-surgical complications, it will also make your recovery faster and more comfortable. Contact us today to get started.