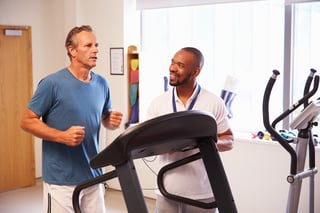 Physical therapy is not a static field. On the contrary, treatment approaches are constantly improving as scientists make new discoveries about the human body and as technology evolves. It is now common for physical therapists to use ultrasound machines, or braces that have been 3-D printed to exactly match a patient's body. These advancements would not have been possible without physical therapists who are eager to adopt new advancements in the industry.
What does this mean for patients? You ultimately get to decide which physical therapy providers are the right fit for your needs. If staying on the cutting edge is important to you, look for providers who are implementing some of these physical therapy trends.
Trends in Physical Therapy for 2018
From treatment methods to business practices that make the patient experience more enjoyable, physical therapists have a lot to look forward to in the next year:
Patient communication
We live in a world of constant communication, but the medical industry has not quite caught up, largely due to privacy issues. In the coming year, more physical therapists will likely adopt HIPAA-compliant patient portal technology to make it easier for patients and practitioners to communicate quickly and securely. You can also expect to see more varied communication methods that go beyond snail mail, including text messaging and email.
Use of apps
Physical therapy apps are nothing new, but as they continue to improve, more physical therapists are recommending them, especially for improving patient compliance. Apps like PTGenie have been specifically designed for professional use, so your physical therapist can create treatment protocols, send photos of recommended exercises, and print evaluation forms to keep your treatment on track.
Gamification
One of the biggest challenges physical therapists face is keeping patients engaged and motivated to complete treatment programs. Patients tend to struggle with the monotony of repeated exercises in a clinical setting. To combat these challenges, many physical therapists are adopting gamification as a means of increasing engagement and making treatment more fun for patients. Movement-sensing video game consoles like the Nintendo Wii and Xbox 360 Kinect can be used to promote repetitive motions, improve balance, and increase mobility. While motion gaming isn't necessarily the right fit for every condition, it is a valuable new tool in the physical therapy toolbelt.
Robotics and rehab
You're already familiar with household devices like robotic vacuums and other automatic cleaning systems. Robots are becoming more popular among physical therapists as new systems emerge. For example, robotic exoskeletons are helping patients learn to walk again, and robotic treadmills offer a significant improvement over traditional gait therapy.
Rapid contrast therapy
Rapid contrast therapy, the intermittent application of therapeutic heat and cold, has historically been achieved with hot and cold water baths. This is challenging for obvious reasons and not very comfortable for patients. However, new technology has been developed that will allow patients to get the benefits of contrast therapy in a single device, without the hassle and inconvenience of water baths. Some of the benefits of contrast therapy may include less pain, less swelling, and better range of motion and muscle activation. With FDA clearance in the final quarter of 2017, you can expect to see physical therapists adopting multi-modality systems that deliver iceless cold therapy, heat therapy, rapid contrast therapy, and intermittent pneumatic compression therapy.
When selecting a physical therapist, it's a good idea to ask about their treatment approach. You can learn a lot by asking what new technologies they are most excited about. Look for a provider who stays on top of the latest research and trends so you can benefit from the best available technology and techniques.
If you would like to learn more aboutCryotherapy therapy, one of the latest trends in physical therapy, download our free New Cryotherapy Techniques ebook today.