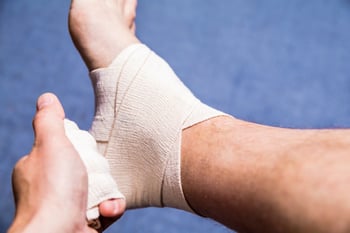 Most athletes are used to sustaining minor injuries, and even non-athletes know to use traditional RICE (rest, ice, compression, elevation) treatment for a sprain or strain. What many people with injuries do not realize is that you can take this treatment one step further with a pneumatic compression device.
If you want to heal faster after an injury, taking a proactive approach will help you return to regular activity more quickly. RICE therapy is effective, but modern technology offers better methods for accelerating injury recovery. Intermittent Pneumatic compression devices deliver air through anatomically designed, circumferential wraps to provide consistent pressure to the areas surrounding an injury.
Common Objections to Compression Therapy
If you're uncertain whether compression therapy is right for you, these common objections might sound familiar:
Compression therapy can cause side effects.
While it's true that static compression can lead to unwanted side effects such as numbness in extremities caused by too much constriction and a decrease in blood flow, active compression allows you to control how much pressure is applied and for how long. Because the pressure is intermittent, the flow of blood and other fluids is actually increased. This generally means no uncomfortable swelling, tingling, or numbness.
Compression therapy is not effective.
Pneumatic compression devices are expensive.
It's true that purchasing a pneumatic compression device is more costly than elastic bandages and compression sleeves. However, you don't actually need to buy a device to use it. With a prescription from your healthcare provider, you can use pneumatic compression in a physical therapy office or rent a unit for home use.
Static compression is good enough.
You might have a good supply of elastic ankle braces and compression sleeves on hand for your most frequent injuries, but that doesn't mean you are getting the best possible treatment. If a quick recovery is important to you, static compression is not the best possible method.
The Benefits of Using a Pneumatic Compression Device
Active compression offers several benefits over static compression, including:
Delivery of even pressure
Better reduction of swelling
Faster healing