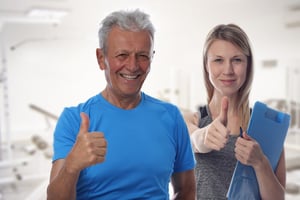 As technology continues to advance, contrast therapy is gaining in popularity as a treatment method among physical therapists. Gone are the days of hot and cold water baths. Now healthcare professionals can offer safe, convenient (and dry!) contrast therapy to patients recovering from an injury or surgery.
The Principles of Contrast Therapy
Contrast therapy uses alternating cryotherapy and thermotherapy to dilate and constrict the vascular system.
Cryotherapy constricts blood vessels and reduces metabolic activity. . It also helps relieve pain without the use of medication by temporarily slowing nerve activity in the affected area.
Thermotherapy causes the blood vessels to open up, which allows oxygenated blood to reach injured tissues. Increasing circulation also helps promote healing by supporting the lymphatic system. Therapeutic heat can also contribute to pain relief by relaxing sore muscles and reducing stiffness.
Because contrast therapy alternates between the two, patients get the benefits of both treatment approaches.
Expected Patient Outcomes with Contrast Therapy
Patients who use contrast therapy after an injury or to help recover from surgery may experience:
Pain relief that reduces the need for medication
Less swelling in the affected area
Improved range of motion
A pleasant treatment experience that encourages patient compliance
Because the application of heat can exacerbate inflammation, it's important to use only cryotherapy during the initial stages of injury recovery. After the initial swelling has abated, contrast therapy is an appropriate treatment method that will enhance the healing process.
What to Look for in an CT Device
While you can get the benefits of contrast therapy (CT) by alternating hot and cold packs or immersing patients in hot and cold water baths, these options are not ideal. Hot and cold packs only cover a small area, which limits the effects of the therapy. Water baths overcome this challenge, but they are messy, inconvenient for patients, and take up a lot of space in your facility.
Fortunately, new CT devices offer a better solution. By using circumferential wraps that conform to the body, therapeutic heat and cold can penetrate from multiple angles without requiring immersion in a tub. Look for these other features as you explore options for a CT device for your practice:
Active Pumping
Some devices depend on gravity for circulating hot and cold water. Look for a system that incorporates active pumping so that patients can receive treatment in any position. Active compression also enhances the delivery of therapeutic heat and cold for deeper penetration into injured tissues.
Portability
The space in your facility is valuable. Look for a device with a small footprint that can be easily stowed away when not in use.
Multiple Patient Treatment
Get the most from your equipment investment with a device that enables the treatment of two patients at a time. You can also use this type of system for addressing multiple areas on the same patient for a more efficient treatment.
To learn more about contrast therapy and the other types of treatment systems you can use in your practice, download our free Comparison Guide of Rehab Cold and Compression Systems today.