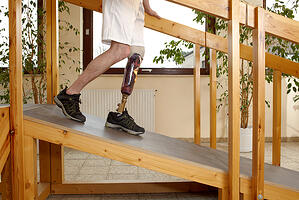 It's never easy for someone to lose a limb, because there will be significant lifetime adjustments that must be made because of the amputation. Yet, healthcare experts agree that there are circumstances, such as an acute injury or chronic vascular problem such as diabetic infection, where a below the knee amputation (BKA) is the best solution. BKA surgery can give the patient the best possible opportunity for a better functioning life with less pain to the lower extremity.
Further, studies have shown that people who undergo below the knee amputation have a greater chance of achieving functional success, as compared to other types of amputations. These transtibial amputations are among the most commonly performed. Those who have a BKA retain the knee joint, which helps tremendously for achieving post-operative rehabilitation and ambulation success. A functioning knee provides the power to lift and lower the body, as well as assistance for balance maintenance. Our knees are important for transfer maneuvers, such as getting in and out of bed, up and down stairs, or on and off the toilet. Knees also help us push forward, slow down and walk on slopes and stairs.
Following a below the knee amputation, the surgical and therapy team will work with the patient to assess their expectations and help them attain those goals to the degree possible by their overall health status.
There are three primary recovery stages that BKA patients should anticipate:
1. Healing phase – This typically ranges from 6-12 weeks. During this phase, the amputation wound is healing. Sutures are usually removed after about 3 weeks. Post-surgical infection control is a prime goal, as is optimizing range of motion, patient education and emotional support, and controlling swelling and pain. Sometimes a cold compression system is used for reduction of swelling and pain.
2. Prosthetic Fitting – Once the amputation site and soft tissue has healed and the swelling and edema significantly reduced, then a trained prosthetic expert will fit the patient with a prosthesis. It may require several months of work with the expert to ensure that the prosthesis fits correctly and can be comfortably and safely worn. During this time, the amputation stump can become irritated by the presence of the new prosthesis, and so cryotherapy along with compression is sometimes recommended.
3. Rehabilitation phase – Patients will begin to learn how to walk with their new prosthesis and will start physical therapy on atrophied muscles to strengthen them as well as other muscle groups such as the upper body. Regular physical therapy will be routine so that the patient regains strength, balance and endurance. Early mobility helps improve functional outcomes, foster independence, decrease mortality rates and reduce acute care length of stay. Vocational assessments often occur during this phase as well, to help the patient determine how to successfully reintegrate into either their previous work career, or help them find a different type of work more suited to their new physical status.
Patient goals and expectations after a below-knee amputation vary greatly and are affected by their overall health status and their commitment to post-surgery rehabilitation. Do you have questions about the recovery stages of below the knee amputation? Contact Game Ready and learn more about our injury treatment systems.
Does your physical therapist have access to an active cold and compression therapy system?