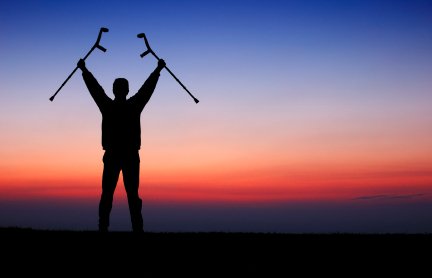 Many of you have likely had a musculoskeletal injury at some point in your life, especially if you're physically active. You know the pain and discomfort that follows such an injury. When it happens, many people turn to the traditional RICE method (Rest, Ice, Compression, Elevation).
While there's nothing wrong with RICE, it's a fact that a better solution exists to help you treat your injury and lessen or even avoid pain medications. It's an advanced ACCEL™ Technology offering combined compression and cold therapy. The benefits of this system are numerous and include active compression to help your body remove edema from the injury site while stimulating blood flow and oxygen delivery to speed healing; and circulating ice water to effectively remove heat and cool tissue, thus reducing pain, muscle spasms and edema.
Further, the Technology is portable and delivers relief directly to your injury site via specialized large surface-area joint-specific cold compression wraps. The wraps feature a patented design that delivers simultaneous ice water circulation and air for active compression.
Decrease or avoid pain pills during recovery
Pain following a joint injury can be one of the biggest obstacles to a fast return to normal activity. Many people don't want to sit around the house, loaded up on pain meds that make them drowsy and unable to focus on the physical therapy needed to recover quickly. Fortunately, using ACCEL™ cold compression wraps during recovery has been studied and results indicate that patients can discontinue pain meds faster, or even avoid them altogether.
A physician in Southern California was seeking a way to help his patients heal naturally and avoid surgery and pain medications. He discovered the innovative ACCEL™ Technology system and was happy to find that it helped his patients control their pain and swelling to such an extent that they didn't need pain meds. It also accelerated their healing process. Since many of his patients are professional athletes, they depend on their medical and physical therapy team to help them recover as fast as possible, so they get back on the field, the court or the golf course.
Cold Compression Wraps: ATX™ Design
These are definitely not your parent's wraps – those generic, clumsy, inefficient products you find at the drugstore. Instead, this system offers you a patented dual-action ATX™ (Active Temperature Exchange) design. The large surface-area cold compression wraps deliver both cold and compression therapy to the affected area. These wraps have an inner, two-chamber heat exchanger and a removable machine-washable and replaceable outer sleeve.
Many athletes and medical professionals choose this solution because the form-fitting wraps are so effective; they help deliver deeply-penetrating cold treatment to your injury site, thus providing substantial pain relief and reduced swelling.
ATX™ cold compression wraps provide better coverage, fit and results. Here's the range of wraps available to help you recover faster:
Shoulder
Elbow
Flexed elbow
Wrist
Hand
Back
Hip/groin
Knee
Articulated knee
Half-leg boot
Ankle
Get off the couch faster and throw out your pain meds – with ACCEL™ and ATX™ cold compression therapy. What kind of wrap worked best for your injury?