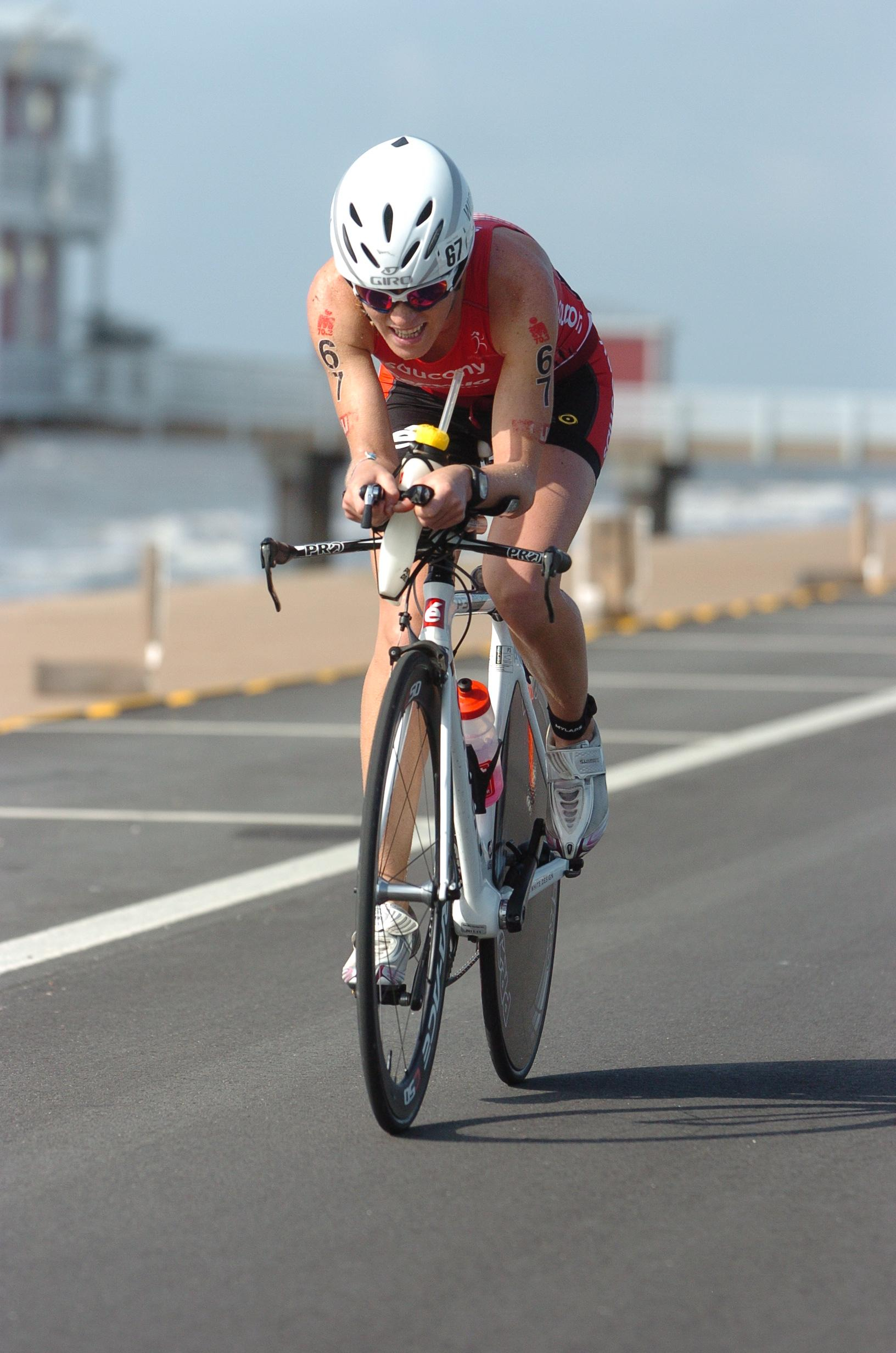 One day in 2009, sitting with a friend in a crowded New York City bar and smoking yet another cigarette, Sarah Piampiano took a fateful step that would change her life. Her friend had signed up for a triathlon and Sarah, being the competitive woman that she is, took a bet that she could beat her friend in the race. Not only did she beat him, but she experienced one of those rare "ah-ha" moments that come to some people in their life. "I love this. I can be GOOD…or maybe even great."
At the time, Sarah was a driven, successful investment banker working in New York City, at the heart of the finance world. She smoked two packs of cigarettes a day, worked a 100-hour week, and travelled 14 days a month all over the world. Life was good, she thought.
Ah, but childhood dreams don't die easily. Raised a tomboy in Maine, always ready to mix it up with her brothers, Sarah became a runner at the tender age of 8. Determined to qualify for the National Junior Olympic Cross Country Championship that year, she trained hard. "I was scrawny and at the bottom of the age group. But I secured that last qualifying spot," she recalls. The experience launched a dream of being an Olympic athlete. She went on to captain her college cross-country track team and to compete as a Division I ski racer.
After that 2009 triathlon, Piampiano stopped smoking and got serious about fitness and training. Her first competition was in 2010. In 2011, she won several triathlons as an amateur. In 2012, she resigned her hard-earned NYC finance job, packed up her stuff and moved to California to chase her dream. She turned pro and now competes on the international triathlete circuit. She's picked up sponsors, won the 2012 New Orleans Ironman 70.3 and placed 23rd among the pro females competing in the 2012 Kona Ironman.
Piampiano's incredible drive and motivation have made her a successful pro triathlete. Too, she benefits from great coaches, physical therapists, and sponsors. She's also quick to mention the Game Ready® cold and compression therapy system, which she says has been invaluable in her workout recovery. This innovative technology delivers active cold and compression therapy in a portable system to help speed healing and recovery.
Training with Game Ready®
Think you have an active workout schedule? Here's what Piampiano does six to nine hours a day: swim two hours, bike two to five hours, then swim another two hours if she isn't doing a 45- minute to two-hour run. Yoga and strength training one to two times a week complement her swim, bike and run regimen.
Training doesn't stop for sore muscles, so Sarah relies on her Game Ready® active cold and compression system to speed up workout recovery. "Icing and compression is a significant part of my day-to-day recovery." She tried other products that delivered only compression, and found that workout recovery was accelerated with the addition of cold therapy. Sarah uses Game Ready® once or twice a day, usually after a bike ride or run, to help speed up leg recovery. She finds the leg boots and the hip wrap especially helpful for training recovery, and she uses compression therapy at night in bed. Game Ready® goes with Sarah when she competes across the globe.
After the Kona 2012 Ironman, here's what Sara blogged about Game Ready®. "You saved my legs after the race! No joke! I was literally crawled up in the fetal position on the ground, and 40 minutes and one Game Ready® compression & icing cycle later I was like a whole new woman, dancing up a storm in the bleachers on Ali'i Drive. Seriously – you make fantastic stuff that has been a huge part of my training and recovery this year – thank you!"
Even if you're not training for an Ironman, take care of your body and get a faster workout recovery with Game Ready®. To read more about Sarah Piampiano or follow her race career, check out her website: www.sarahpiampiano.com.