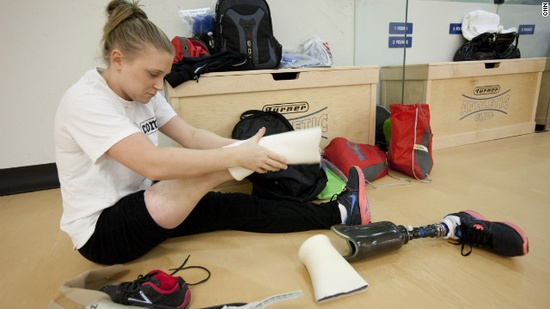 Losing a limb is a life-changing event, especially if you did not plan the surgery in advance. Although all traumatic amputations are difficult, a
below the knee amputation
comes with its own set of unique challenges.
Every amputee can expect to face most or all of the following steps in the post-surgery recovery process:
Infection prevention
Pain management
Counseling
Physical therapy
Occupational therapy
Tissue massage
Prosthetic fitting
Prosthetic use
Ongoing residual limb care
Below the Knee Amputation Recovery
In addition to all of the above factors, a below the knee amputation often includes other special circumstances:
Walking with a prosthetic - Mobility is essential for maintaining your independence, so it is important to start moving as soon as possible after surgery. In the first few days you may use crutches or a walker, but a prosthetic can be fitted as soon as the residual limb has healed sufficiently. Your physical therapist can help you learn how to navigate stairs and other obstacles that you can expect to encounter.
Residual limb swelling - This is an inevitable side effect of a below the knee amputation, especially as you start to move around more and more. Elevating your residual limb while you rest and employing cold compression therapy can help reduce this swelling, both immediately after surgery and on an ongoing basis.
Residual limb pressure - The way you disperse your weight will be different with a prosthetic, and can often cause pain or discomfort around the residual limb. Getting your prosthetic properly fitted is important for maintaining comfort, but even the best fitting prosthetic can cause irritation after a long day. Cold compression therapy can help manage the pain associated with prolonged prosthetic use, particularly for below the knee amputees.
Speed up the recovery process for a below the knee amputation with Game Ready's amputee wraps. Designed to fit comfortably on the residual limb, each wrap uses patented ATX (Active Temperature Exchange) technology in combination with pneumatic compression to provide simultaneous, consistent cooling and active compression.

Game Ready amputee wraps can be used at any stage during the recovery process. Right after surgery, active compression is essential for healing, and cold therapy will help reduce or eliminate the need for pain medication. During physical therapy and while learning to use a prosthetic, a cold compression wrap can help reduce pain and swelling. Even after you have completely healed, Game Ready can help you maintain the shape of your residual limb and help you recover from a long day of prosthetic use.

Download our free guide to amputee recovery for more information, or talk to your doctor about getting a Game Ready system to help you with below the knee amputation recovery.