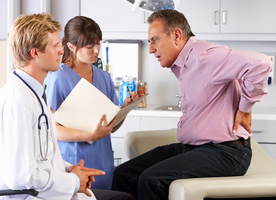 Cold and compression therapy is used in a variety of situations to reduce swelling, prevent edema, and help promote blood flow to injured areas. All of these benefits contribute to less pain, faster healing, and a quicker recovery process.
How Do You Know if Cold and Compression Therapy is Right for You?
Although you should always consult your doctor before adopting any therapeutic treatment, cold and compression therapy might be a good fit if any of the following situations apply to you:
Surgery recovery - Surgical incisions and other damaged tissues take time to heal. Adding cold and compression to the recovery process can help your body heal more quickly. Active compression stimulates healing and increases blood flow, while consistent cold helps reduce inflammation and pain.

Injury recovery - Sprains, strains, fractures, and other athletic injuries that take you out of commission are part of being active, but they don't have to slow you down for so long. Using active cold and compression will allow you to get back to daily activities and sports more quickly. Specialized wraps that are designed for shoulders, wrists, ankles, elbows, knees, hands, hips, and backs ensure full coverage for the injured area.

Amputation - Recovering from amputation surgery involves a lot of pain management. Cold and compression can be used immediately post-op to speed healing and reduce pain without narcotic medications. It can help to decrease critical time to prosthetic fitting, and reduce the number of prosthetic fittings.

Acute Pain - You don't need to be an athlete or recovering from surgery to experience pain. Active cold and compression can help relieve pain so you can take fewer medications and be more comfortable.
If you think that cold and compression therapy might be a good fit for your situation, talk to your health care provider about using an active cold compression system. Combining cold and compression enhances the benefits of both types of therapy and allows therapeutic cold to penetrate deeper and last longer.

Game Ready's active cold compression wraps are easy to use, comfortable, and have proven efficacy. Our patented system allows you to simultaneously apply active pneumatic compression and adjustable cold therapies so you can get the most from it. If you want to benefit from less pain, faster healing, and an overall easier recovery, get in touch with Game Ready today.

Why do you think compression therapy is right for you?