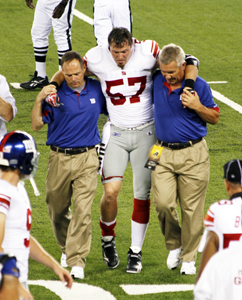 Athletes, coaches, and trainers have an interest in learning the best ways to quickly recover from football injuries. Players want to get back in the game as soon as possible; coaches need the whole team in top shape to be successful and trainers are tasked with keeping athletes in playing condition.

Football injuries can happen to ankles, legs, knees, and shoulders. Some of the most common football injuries include:
ACL and MCL tears

Torn meniscus

Ankle sprains and strains

Torn hamstrings

Contusions or "dead leg"

Tendinitis in shoulders and other joints

Shoulder dislocation or separation
Players suffer impacts from tackling, make quick turns that can damage joints, and put a lot of pressure on their bodies during games and practices. Even a minor sprain can slow a player down or take them out of the next game.
Use Cold Compression Therapy to Recover from Football Injuries
RICE (rest, ice, compression, and elevation) is a tried and true method for recovering from a range of football injuries, and it is almost always used as a first line of defense for reducing swelling and pain. However, even though this method has been used for years, it's not perfect.

Rest and elevation are elements of RICE that cannot be improved. The athlete simply needs time and patience during this part of injury recovery. However, the traditional methods for ice and compression leave room for improvement.

Ice therapy has two major flaws. The first is the risk of skin damage because if the ice pack is too cold, ice burn or frost bite can occur. The second is the inability to consistently cool the injured area. As soon as an ice pack is applied to an injury, heat is transferred from the body to the ice pack, causing the therapeutic cold temperature to increase and become less effective over time. A cold therapy system with Active Temperature Exchange technology ensures that a safe, consistent therapeutic cold temperature is provided for the duration of the application.

Static compression helps reduce swelling and edema, but these benefits can be taken to a new level with active compression. Pneumatic pressure in an active compression system mimics the body's natural muscle contractions, helping to increase blood flow and remove excess fluid from the injured area.

The time required to recover from football injuries varies significantly, but it can often be reduced with active cold and compression. Deeper, more consistent cooling helps facilitate the healing process so damaged tissues can repair themselves more quickly and injured players can get back in the game.

Game Ready's wraps provide active compression and consistent cold to the entire injured area. Whether it's a sprained ankle, a damaged knee, or a shoulder injury, Game Ready is proven to be more effective than ice packs alone. Contact us today to learn more about how you can get Game Ready for your football team.

How many injuries does your football team sustain each season?