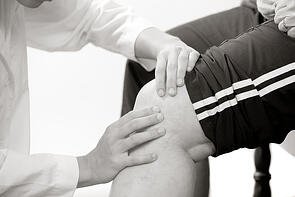 Whether you have injured your ACL, MCL, or meniscus, knee surgery is sometimes the best solution for getting you back in the game. If your doctor does recommend surgery, it's important to be prepared for the post-operative recovery process as much as possible. The more you are committed to healing quickly, the faster you will be back on your feet.
Follow these tips to help you recover faster after knee surgery.
What You Should Do After Knee Surgery
Follow your doctor's instructions - Although this should go without saying, it is critical that you do exactly what your doctor recommends, and in the time frame that they outline.

Get plenty of rest - Your body will need as much energy as it can get to repair the damaged tissues in your knee. Stay off your feet when possible and take it easy for the first few weeks after surgery, when healing is happening the fastest.

Use cryotherapy - Cold therapy is proven to help reduce the pain and swelling that comes after knee surgery. Reducing swelling will help contribute to a faster recovery, so ice your knee regularly. If possible, use an active cold therapy system to get the most from cryotherapy.

Use compression therapy - Compression bandages and modern active compression therapy systems help remove excess fluid from the area surrounding the knee joint to help accelerate healing.

Do physical therapy - Work with a physical therapist to learn the strengthening and stretching exercises that will help you heal faster and prevent future injuries.
What You Should Not Do After Knee Surgery
Don't do too much too soon - Although it may be tempting to return to normal activity as soon as possible, especially after the initial pain fades away, your body needs more time to heal fully. Follow your physical therapist's instructions closely and don't do more than they recommend.

Don't skip doctor visits - Keep the appointment schedule your doctor provides. It is important to stay on track throughout your recovery and only your doctor can confirm that the repairs they performed are healing correctly.

Don't end physical therapy early - Because the pain subsides and you can get a comfortable range of motion back relatively quickly, many people are tempted to stop going to physical therapy sessions before they have fully recovered. Follow the entire course of care to ensure that the healing process is allowed to complete fully.
Game Ready is here to help you get the most from the cryotherapy and compression therapy portions of your recovery. Our unique system provides deeply penetrating cold and active compression that mimics the body's natural actions. Find a provider today to include Game Ready in your post-knee surgery plan.
What other activities do you think should be avoided after knee surgery?