Game Ready leading technologies are designed to get people back to being their best after injury or surgery. Thousands of patients, athletes, athletic trainers, and pro teams, as well as the world's foremost orthopedic surgeons, sports medicine doctors and physical therapists, choose Game Ready.
Check out some recent testimonials from celebrity users:
Kesha, Singer/Songwriter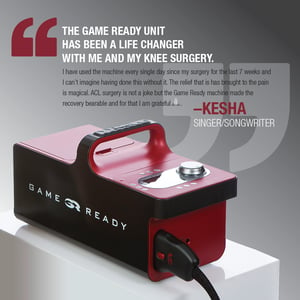 Kesha, singer, songwriter, rapper, and actress, used Game Ready after her recent ACL surgery:
"The Game Ready Unit has been a life changer with me and my knee surgery. I have used the machine every single day since my surgery for the last 7 weeks and I can't imagine having done this without it. The relief it has brought to the pain in magical. ACL surgery is not a joke but the Game Ready machine made the recovery bearable and for that I am grateful."
Kyle Kuzma, forward for the Los Angeles Lakers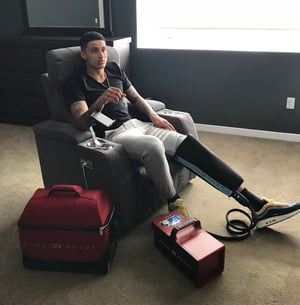 Named NBA Rookie of the Month for October and November, he was the first NBA rookie in history to reach 1,000 points, 400 rebounds, and 130 three-pointers. As a professional athlete, Kyle is an avid Game Ready user:
"The NBA season can take a toll on me physically so taking care of my body is a priority. Our schedules can get crazy. A day's work for me can include a lift, practice, shooting session, warm-up, game, media, the list goes on. What I do for my body in between all of the training, practice, and games is critical for me. That's why I love Game Ready. It helps me be able to keep my body feeling right and perform to the best of my ability every day.
I've worked hard at my craft to get to where I'm at in my basketball career and that includes taking care of my body and being diligent with using my Game Ready. Game Ready makes it easy. After a long day when I'm mentally and physically exhausted, all I have to do is put ice and water in it and then set the temperature and pressure level. The NBA's intensity level and physicality is so high that everyone is playing with some bumps and bruises. I've sprained my ankles a few times during this season and using the Game Ready on my ankle has made the healing process so much quicker. At the end of the day, all I want is to perform to the best of my abilities on the court every night and Game Ready helps me out in a major way."
Macklemore, Rapper/Songwriter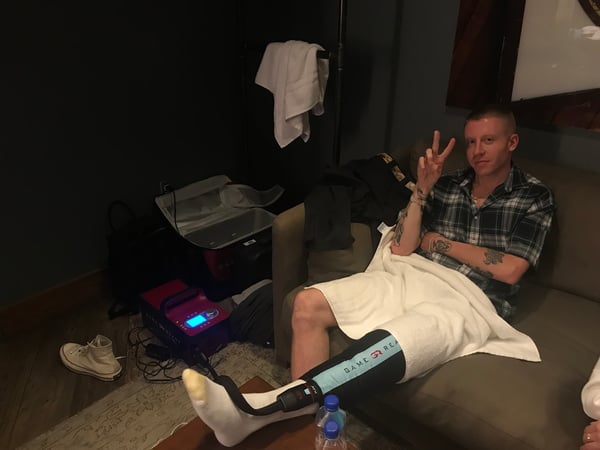 "The Game Ready was crucial to my recovery. Trying to bounce back from knee surgery at the same time as being out on tour would have been impossible without it. The compression?! The cold?! Come on baby, we on the road to recover, and it's looking good!"