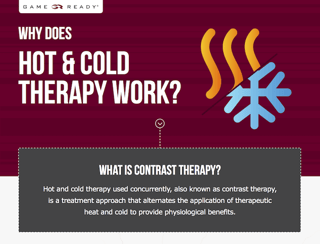 Hot and cold therapy, also known as contrast therapy, is a treatment approach that alternates the application of therapeutic heat and cold to provide physiological benefits. But not everyone fully understands how contrast therapy can help in a myriad of ways. That's why we've put together the Why Does Hot and Cold Therapy Work? infographic to help give you an understanding of contrast therapy basics as well as provide the answers to your most common questions, such as:
What is contrast therapy?
Why does it work?
What are the benefits of cold and heat therapy?
Is contrast therapy right for me?