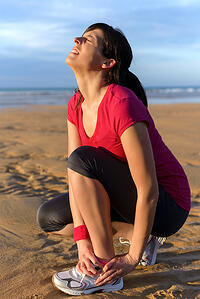 Cryotherapy is a proven method for reducing pain, swelling, and edema. However, simply applying an ice pack has a limited effect on the healing process because the heat from the injury quickly warms it.
Active cold therapy systems
enhance the power of ice therapy by providing consistent cooling at a controlled temperature. Some cold therapy systems also include active compression, which further enhances the many benefits of cryotherapy.
Cold Therapy Systems: How They Work
There are two primary
problems with ice packs
: they get warmer as the injury transfers heat, and for most injuries it is difficult to completely cover the affected area. Cold therapy systems provide solutions for both of these problems.
Active Temperature Exchange (ATX) Technology
A static ice pack will start at the right therapeutic temperature, but it won't stay that way for long. To combat this problem, ATX technology continually circulates cold water through an ice reservoir to provide consistent cooling. As the injury warms the water that flows through the system, colder water is brought in to replace it. This constant flow of cold water means that the cold source stays at a consistent therapeutic temperature throughout the session.


Cold therapy wraps
If you have ever tried to apply an ice pack to a sprained ankle, you know how difficult it is to cover the entire area. Even the most flexible gel pack won't completely surround your ankle, wrist, elbow, knee, or back. Cold therapy wraps with integrated ATX technology are designed to solve this problem. In contrast to gel packs, cold therapy wraps cover more surface area, conform to your body, and provide cold therapy for the entire joint. Cold therapy systems use specialized wraps that are designed for each specific body part. This means that you can select a wrap that specifically treats the injury you have.
A wrap integrated with ATX technology has chambers that allow cold water to flow through. The wrap is connected to an ice reservoir that enables constant cooling. In addition to ATX technology, cold therapy wraps can also employ active pneumatic compression, further enhancing the benefits of cryotherapy and improving fluid circulation in the area.

Game Ready provides innovative cold therapy systems that are proven to be more effective than ice or cooling gel packs. Because the temperature remains constant during the entire application, the therapeutic cold is allowed to penetrate deeper and last longer, helping your body accelerate the healing process. This means less pain and faster recovery for you. Contact Game Ready today to learn how to rent or buy your own cold therapy system.

What challenges have you faced when using ice or gel packs?