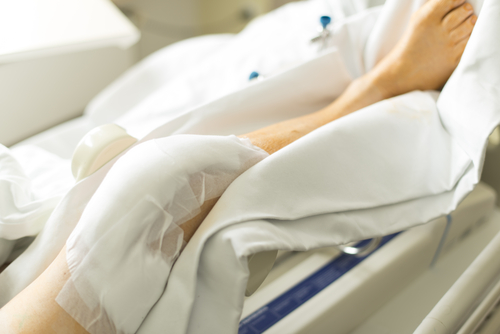 A torn medial collateral ligament (MCL) impacts the stability of the knee joint. Because the long-term effects of this instability can lead to consistent discomfort and further injury, surgery is often recommended. After the MCL is repaired, the healing process begins. Several factors contribute to the body's ability to repair itself, and the more prepared you are in advance, the better chance you will have of a speedy recovery.
Although the recovery path varies for every individual, most people experience that same phases as they heal.
Typical MCL Surgery Recovery Timeline
Phase One - In the first six weeks after MCL surgery, the healing process will rapidly progress. The immediate inflammation after surgery can be controlled with rest, elevation, and cold compression therapy to help manage pain and swelling. As the inflammation subsides, rehabilitation begins to help restore the normal function of the joint. The main focus during these initial weeks is to restore range of motion, build up to weight-bearing activities, and increase strength and flexibility without impacting the surgical repair.


Phase Two - Six to twelve weeks after surgery, most patients are able to advance rehabilitation to include functional training and sports-specific conditioning exercises. During this time your physical therapist will gradually increase both the duration and the intensity of your rehabilitation sessions to help you safely build muscle and increase flexibility.


Phase Three - This is when you are ready to return to activity. The length of time it takes to achieve full recovery depends on several factors, including:



How well your body healed during the first weeks after surgery
Your physical condition before surgery
The rehabilitation process during the second phase of recovery
The average recovery time for MCL surgery is about six months, but the full range is from twelve weeks to twelve months at each end of the spectrum.
The early stages of MCL surgery recovery influence the entire healing process. Giving your body the opportunity to heal quickly and thoroughly is the best way to return to activity safely. Using Game Ready's cold compression therapy system after MCL surgery will help you heal more quickly, feel more comfortable, and get back on your feet faster.

Our patented system is proven to be more effective than ice alone, which is why both doctors and athletes rely on Game Ready during MCL surgery recovery. Look for a provider near you if you want to integrate Game Ready into your MCL surgery recovery strategy.

How fast do you want to get back in the game?