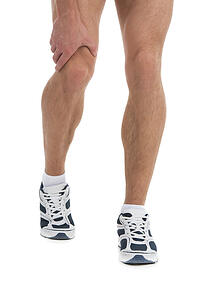 One of the most common side effects after ACL or MCL surgery is swelling. This is a result of your body's natural reaction to trauma and is an essential component of the inflammatory response. Inflammation actually helps your body heal, but too much swelling can be uncomfortable and impede the recovery process.
So how do you reduce swelling after knee surgery? The traditional method is RICE (rest, ice, compression, and elevation), and although this is effective, there is now a better way.
How to Reduce Swelling After ACL or MCL Surgery
The best way to safely reduce swelling after knee surgery is with active cold and compression. Although ice packs are useful, they warm up as heat from your body transfers from your skin to the ice pack. This makes the therapy less effective over time. Static compression is also beneficial for swelling, but it also comes with some drawbacks.
Active Cold Therapy
Cryotherapy is a proven method for reducing the pain and swelling that is associated with knee surgery. The ability to maintain a constant temperature throughout the session enhances the healing effects of the therapy and helps reduce swelling in the following ways:
Reduction of cellular metabolism - The application of cold slows down the metabolism of your cells, which means that they consume less energy and do not have to work as hard to survive. It also reduces local swelling in cells and other tissues.


Reduction of excess fluid - Edema, or excess fluid in the body contributes to swelling. Applying cold to the area helps reduce the build-up of this fluid.


Vasodilation and vasoconstriction - When cold is applied to an area, the underlying blood vessels go through several cycles of dilating and constricting, which helps improve the flow of blood and other fluids, contributing to the reduction of swelling.
Active cold improves all of these cryotherapy benefits by constantly circulating cold water through a patented system and keeping the temperature consistent.
Active Compression Therapy
Static compression is used to reduce edema and swelling, but active compression is a much more effective method for achieving the same effects. Game Ready uses active pneumatic compression to pump air through a specialized wrap that fits around the entire knee joint. This active pumping mimics the body's muscular movements to remove excess fluid and bring fresh blood and nutrients to injured tissues.
The combination of active cold and compression in the Game Ready system can help you reduce swelling after MCL or ACL surgery. You can use this system both immediately after surgery to control pain and swelling, and throughout your recovery.
If you are interested in introducing active cold and compression therapy to your knee surgery recovery, consider renting a Game Ready system. Find a provider near you to learn more about Game Ready and how it can help you reduce swelling and pain.
How much swelling did you experience after knee surgery?