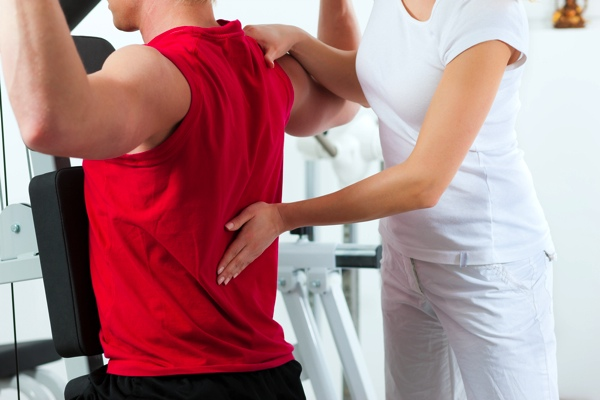 When you suffer from a spinal cord injury, you might experience symptoms such as reduced motor function, loss of sensation in limbs, numbness or tingling, pain or stinging, and many more.. Obviously, the faster you can recover from your injury and eliminate those undesirable symptoms, the happier you will be.
Spinal cord injuries can be caused in a number of ways and the effects will depend on where in the spinal damage occurred and which part of the spinal cord itself was injured. For example, if the injury is on the front side of the spinal cord, it may impact your ability to sense pain, touch, and temperature. However, an injury to the back of the spinal cord might have an affect on your ability to coordinate movements.
Regardless of the cause of the injury and the consequent effects, you want to make sure you do everything you can to recovery as quickly as possible.
5 Basics of a Quick Spinal Cord Injury Rehabilitation
Whether you have a herniated disk, damage to vertebrae, or arthritis that affects your spine, you can take steps to help accelerate the healing process:
Physical rehabilitation - After a spinal cord injury, you must do exercises that help improve mobility, increase muscle strength, and enhance flexibility. Your physical therapist might also recommend hydrotherapy or massage to help relieve pain.

Gait training - If your injury has affected the way you walk or impacted your ability to coordinate muscle movements, you might need to spend time with a cane or walker while you regain your abilities and return to normal function. This type of physical therapy is known as gait training. It might take some time to get back to where you were before your injury, but following your physical therapist's instructions will help you get there faster.

Overall health - The healthier you are during spinal cord injury rehabilitation, the faster you will heal. This means ensuring that you have proper nutritional intake, are getting ample rest, and avoid unhealthy behaviors. Smoking is particularly bad for people recovering from a spinal cord injury because it can increase the risk of secondary complications and lengthen the time it takes to recover.

Swelling mitigation - If your spinal cord injury results in swelling (and many do, particularly right after the injury), you should do everything you can to control it. Excess swelling can slow down the healing process and contribute to additional pain. The application of cold therapy with active compression is a proven way to reduce the pain and swelling associated with spinal cord injuries.

Pain management - Many spinal cord injuries result in pain throughout the rehabilitation process. It is important to manage this pain responsibly in conjunction with your doctor. Although pain medication might be recommended during the early phases of your recovery, the faster you can wean yourself off it, the better you will be able to gauge how well your body is healing. Cold therapy with active compression is an excellent way to help reduce pain without the need for medication.
Recovering from a spinal cord injury can be traumatic, both physically and emotionally. However, if you work closely with your medical team throughout the rehabilitation process, you can return to normal activity more quickly.
Game Ready has developed wraps that cover the neck and back to deliver therapeutic cold and active compression to patients with spinal cord injuries. The C-T Spine Wrap provides targeted compression and controllable cold to the cervical and thoracic areas, upper pectorals and neck while the Back Wrap offers the same for the lumbar region.
If you have a spinal cord injury and want to recover as quickly as possible, talk to your doctor or physical therapist about adding Game Ready to your rehabilitation plan. It will help control swelling and reduce pain to help you accelerate healing and get off medication more quickly. Find a provider near you today.