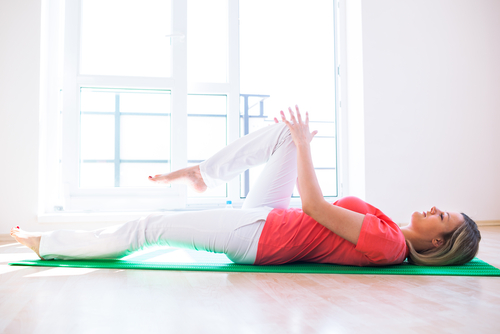 After MCL surgery it is important to strengthen and stretch the muscles surrounding the knee joint. Doing the exercises prescribed by your physical therapist will help you recover more quickly and help prevent future injury to the knee.
Whether you are strengthening or stretching, it is important to follow your therapist's instructions carefully as introducing too much activity too quickly can hinder the
MCL recovery
process.
7 Stretching Exercises for After MCL Surgery
Some of the stretching exercises your physical therapist might recommend include:
Heel prop - Knee hyperextension is one component of proper full range of motion. The heel prop and the next two exercises are designed to improve knee hyperextension. The heel prop is a passive stretching exercise in which your leg rests on a bolster placed at the ankle. Because your foot is slightly elevated, your knee is allowed to be slightly hyperextended. Work with your physical therapist to ensure that you select a correctly sized bolster for this exercise.


Towel stretch - Using a towel or other static strap wrapped loosely around the ball of your foot, gently pull your toes toward you and allow the knee to hyperextend.


Active hyperextension - The goal of this exercise is to achieve the same effect as the towel stretch without using a device. With both legs flat while sitting up, using the strength in your quadriceps muscles, lift your heels off the floor.


Heel slide - Knee flexion is just as important as extension. While lying flat on your back with your knees bent, use a towel or other device to gently pull your heels toward your body.


Quadriceps stretch - Lay on your side and slightly bend both knees to find a stable position. Deepen the bend in the top leg and bring your heel toward your thigh, gently stretching your muscles in the front of the thigh.


Hamstring stretch - Lay on your back and bend both knees with your feet flat on the floor. Straighten one leg and use a towel or strap to slowly bring it closer to your body until you feel a stretch in the back of your thigh.


Calf stretch - Stand facing a wall and bring one foot in front of the other as if you were going to do a lunge. Bend the front leg while keeping the back knee straight and push against the wall while keeping your back heel on the floor.
All of these stretches can be done in combination with other activities that will help you recover more quickly, including active cold and compression therapy. After a physical therapy session, using cryotherapy and compression can help reduce the pain and swelling that you are likely to experience after MCL surgery.

For information about how the Game Ready system provides active cold and compression therapy, ask your doctor or find a provider near you. Having Game Ready lined up before your MCL surgery will help make recovery easier and faster.

What other stretches do you plan to do after MCL surgery?